I dette indlæg skal vi kigge på hvad et Scrum board er. Et Scrum board er et vigtigt værktøj inden for Scrum, da det hjælper med at skabe et overblik over et sprint samt projektets backlog.
Et Scrum board har derfor til formål at vise alle opgaverne i et sprint, hvor man let kan se hvilke af de forskellige stadier i din process som opgaverne er i.
Et Scrum board er derfor et arbejdsværktøj som Scrum teamet selv opdatere løbende mens de arbejder på opgaverne.
Det er lidt forskelligt om et Scrum board er virtuelt eller fysisk. Man bruger tit et virtuelt board der er bygget ind i Jira. Men der er også mange som bruger et fysisk Scrum board, hvor man bruger en tavle eller væg, samt en masse post-it sedler.
Hvad er et Scrum Board?
Et Scrum Board er egentlig bare et Kanban board til opgavestyring. Kanban er en anden agil metoden, men det er her at Scrum låner lidt erfaring. For disse Scrum/Kanban boards er rigtig effektive. Helt grundlæggende handler det om at drive dine projekter efter et "pull"-princip i stedet for et "push"-princip. Dette gør man ved at "trække" opgaver igennem et foruddefinerede flow, frem for at presse dem igennem. Det gode ved denne metode er med til at undgå at der opstår flaskehalse i projektet.
Hvorfor er det vigtigt at have et Scrum Board?
En af kerne principperne i Scrum er transparens. Og det er netop det som et Scrum board giver. Den er nemlig med til hurtigt at kunne kommunikere meget visuelt hvordan det går med arbejdet. Det er frivilligt at bruge dette Scrum board, men har aldrig set nogle vælge det fra, for det er virkelig et godt værktøj at have. 
Du kan herunder se et eksempel på hvordan et Scrum/Kanban board kunne se ud her.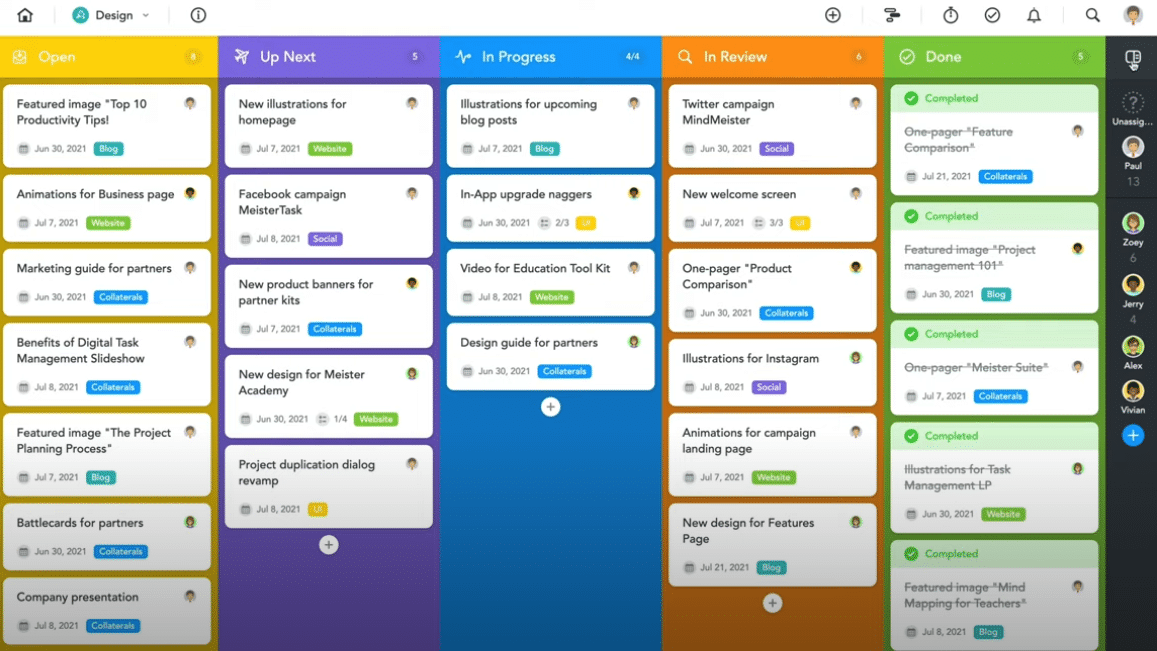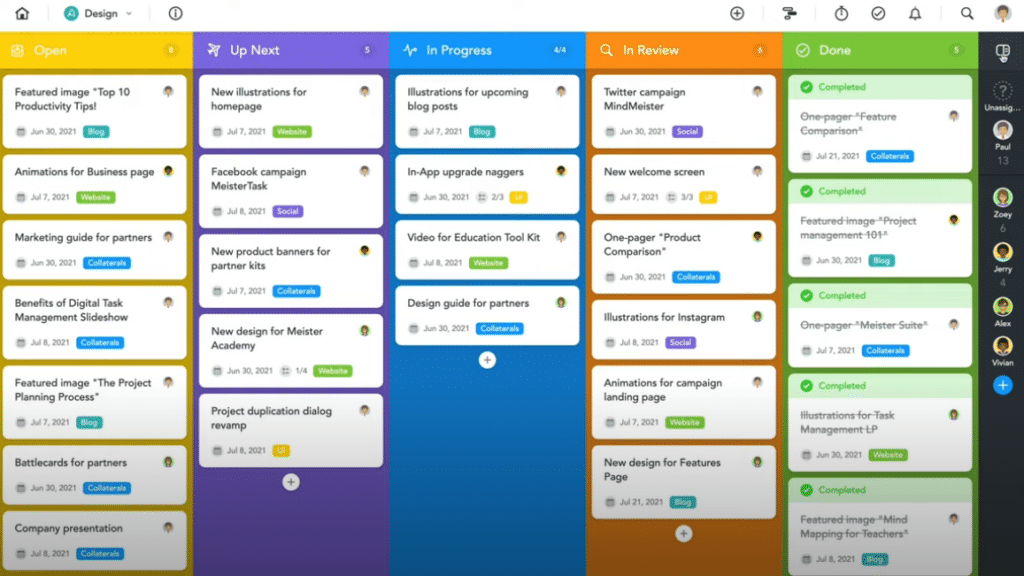 Men Scrum boards ser typisk forskellige ud fra projekt til projekt, da det skal tilpasses teamets workflow. Men et eksempel kunne være at man jo tit skal teste tingene inden de skal lanceres, derfor kunne en kolonne være kaldt "Test", eller du kan have en kolonne som hedder "Igangsat" hvor du så placere alle opgaver som lige nu er igang.
Hvordan bruges et Scrum Board?
Når man begynder at planlægge et sprint, så tager man opgaver fra projektets backlog og flytter til dette Scrum board. Og når man begynder at arbejde på den enkelte opgave i denne sprint, så flytter man den fra "Start" kolonnen til "Igangsat" kolonnen for at vise folk at man nu arbejder på denne opgave. Man sætter også sit eget navn på opgaven, sådan at andre kan se hvem det er der arbejder på opgaven. Når opgaven så er færdig, så flyttes den til kolonnen med færdige opgaver. Når alle opgaver så er flyttet igennem hele arbejdsflowet, så kan man indkalde til Sprint review meeting, og afslutte sprinten.
Se videoen nedenfor fra MeisterTask, for at se hvordan du kan bruge dette værktøj, til effektivt at drive dine projekter.
Kunne du tænke dig at lære mere omkring Scrum Boards? Så kan du eventuelt tage mit Scrum kursus, der snakker jeg mere omkring Scrum boards, samt mange andre spændende dele af Scrum metoden.